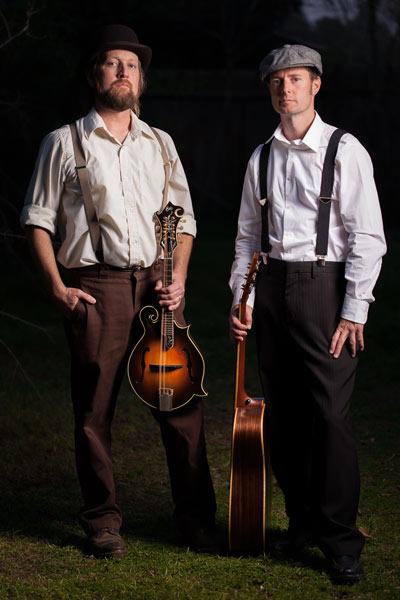 Paul and Loren Barton are The Brothers Barton, an American bluegrass brother duo from Bakersfield, CA. Formally Richard Greene and The Brothers Barton, with Paul on mandolin and Loren on guitar, this brother duet, with their haunting vocals, amazing musical talent and killer songwriting continue to blaze their own trails in bluegrass and new acoustic music.
Their reputation has spread far and wide. Punch Brothers fiddler, Gabe Witcher backed the brothers with his fiery fiddling skills on their first album entitled "The Brothers Barton" which was released in 1998.They toured until 2005 as The Brothers Barton and Overdrive and subsequently won the National Bluegrass Playoffs At Huck Finn's Jubilee.
In 2004 the Brothers recruited veteran bluegrass icon Richard Greene (of Bill Monroe and Muleskinner fame) to play on their second album entitled, "Originals" which included Mark Schatz (of Nickel Creek) on bass and Ron Stewart (of Lynn Morris Band) on fiddle and banjo. The record gained national attention and was played on over 500 radio stations across the U.S. and Europe.
"The Brothers Barton, as a duo or in the context of a full bluegrass band, keep the tradition alive and evolving", writes the late Forest Rose, bass player for Perfect Strangers and columnist for The Columbus Missouri Tribune. "While their sound is steeped in tradition, the Brothers Barton are way too imaginative to be labeled preservationists. Their music is alive, spontaneous and accessible."
In 2005 the Brothers joined forces with Richard Greene and Jeff Pekarek and recorded their third album entitled, "Shufflin". That same year they played at IBMA in Louisville, KY and in 2006 their album was nominated for a Roots Music Award. They spent three years touring the U.S. as Richard Greene and the Brothers Barton and as a result were able to play at some of the biggest festivals in the country. They have shared the stage and studio with artists such as Allison Krauss, Richard Greene (Bill Monroe), Ron Stewart ( The Boxcars), Gabe Witcher (Punch Brothers), Christian Ward ( Sierra Hull), Mark Schatz and Maria Muldaur.
Their fourth and most anticipated album, "New Love" was officially released in June of 2014. In the spirit of generosity that the bluegrass community is known for, Paul and Loren have donated their finished album to a non-profit, Selah's River International, Inc. (www.selahsriver.org). Selah's River International's mission is to bring awareness to the horrible tragedy of child trafficking and exploitation and also to raise funds (using the brothers' album, which we hope is the first of many works to be donated) to give to NGO's working directly with the rescued children.
Also Meet the Brothers Barton band...